The Real Bread Campaign is helping to bring Real Bread back to the hearts of our local communities.
It's all about banishing the artificial additives and eating healthier and it starts at grass-roots level with the excellent 'Lessons in Loaf' initiative, which is all about teaching our children what makes great Real Bread and how they can make it themselves.
To this end I hosted a 'Lessons in Loaf' event at La Cucina Caldesi recently where I taught 16 secondary school teachers how to make some wonderful breads, the idea being that they can now pass these skills on to their colleagues and the children they teach.
In three hours we covered a range of breads from a simple white focaccia, a rustic pizza dough and wholemeal seeded rolls.
It's a fantastic campaign, which I hope really thrives as there's nothing worse than the processed white loaves we see on the supermarket shelves that are packed with enhancers, preservatives and additives… but still manage to remain remarkably flavourless.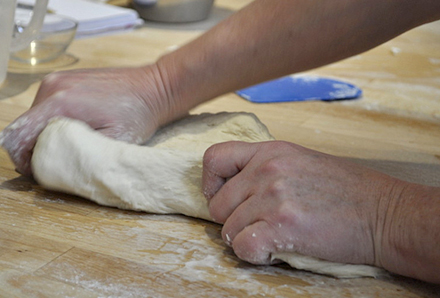 Here's the recipe for the seeded wholemeal rolls we made. They're easy to make at home with kids who can make them into snails, hedgehogs, mice etc and always delight when served with a bowl of winter warming soup.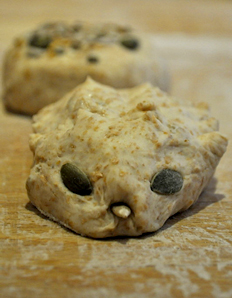 Pagnottine integrali ai semi
Seeded wholemeal roll
Makes 10 rolls
200g wholemeal flour
200g strong white flour
100g mixed seeds such as sunflower, pumpkin, sesame
7g dried yeast
1 heaped teaspoon salt
1 flat teaspoon sugar
1 tablespoon of rapeseed or olive oil
300-325ml tepid water
Use a spoon or dough scraper to mix the dry ingredients together in a large bowl. Now pour in the water and olive oil and stir together using the spoon or dough scraper. When the flour is mixed in thoroughly with the liquid use your hands lightly to bring the mixture to a ball of dough.
Lightly flour a clean work surface with flour and knead the dough for ten minutes. Now roll it into a fat sausage shape still lightly dusted in flour. Weigh the sausage and divide by ten so that you know how much each roll will weigh. Divide the sausage of dough into 10 even sized pieces; they should weigh approximately 80g to 90g each.  For each roll push the corners underneath and roll between your hands to form a smooth, round ball. At this point you could make a plait or hedgehog with a pair of scissors. Dust these with flour and leave to rise with at least 10cm between them on a lightly oiled baking tray for one hour covered with a tea towel.
After one hour they should be twice their size. Bake the rolls in a pre-heated oven at 200oC for 15-20 minutes until they are cooked through. Remove from the oven and allow to cool on a rack.
For more information on the Real Bread Campaign visit www.realbreadcampaign.org